"Champions know there are no shortcuts to the top. They climb the mountain one step at a time. They have no use for helicopters!"
- Judi Adler
His name is Peter Quillin. Among hardcore boxing fans and people in the New York City area he is known as "Kid Chocolate". His close friends call him "Petey". At 20-0, 15 KO's, he is one of boxing's fastest rising middleweight contenders and perhaps the future middleweight champion of the world. If you have not heard of him, you will soon!
Peter Quillin was born in Chicago, Illinois. He grew up in Grand Rapids, Michigan and now resides in the hotbed of great past and present boxing talent Brooklyn, New York. Born on June 22, 1983, this Cuban-American is acquiring an extremely large following especially in the New York City area. He signed with Cedric Kushner Promotions in 2006. Eighteen of his twenty fights have taken place in New York. Peter has knocked out 11 of his first 12 opponents in 2 rounds or less.
Peter acquired the nickname "Kid Chocolate" from someone in the boxing gym that said he resembled the Cuban native Eligio Sardinias-Montalbo. Sardinias-Montalbo was first given that nickname and inducted into the International Boxing Hall of Fame in 1991. However, Eligio Sardinias-Montalbo fought most of his career at Featherweight. Eligio was the Junior Lightweight champ from 1931-1933 and the New York World Featherweight champ from 1932-1934. He was one of the most popular fighters in New York in the late 1920's through the 1930's. Like Quillin, Sardinias-Montalbo possessed exceptional speed and power in both hands. His notable fights were against Jackie "Kid" Berg (twice - L10 1930, L15 1932), Benny Bass (TKO 7 1931), Tony Canzoneri (twice - L15 1931, KO'D 2 1933), Lew Feldman (TKO 12 1932) and Johnny Farr (4 times - 3 Times W10 in 1932, W10 1933).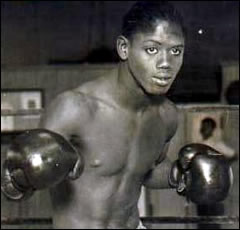 I have had the privilege to witness over half of Peter's fights live. He looks more mature each time he steps foot into the ring. Peter appears patient and composed when on the offensive and calm on defense. He does not panic when under attack. That comes from believing in himself through his corner men, quality training and acquired ring experience. He also possesses devastating punching power with either hand. Peter has tremendous hand speed, agility, and athletic ability. Peter hits harder, or just as hard as any middleweight out there.
At Peter's 2nd professional fight, I was approached by someone and asked, "What do I think of him?" I replied, "He has the potential to be a champion someday, as long as he stays on the right path and continues to train hard. He has the tools, but looks a little raw." My observation told me that he did not have many amateur fights. Peter had only 15 amateur fights and it shows just how far he has come in a short period of time.
A few of his notable wins have come against Dionisio Miranda (W10) and Antwun Echols (W10). Antwun Echols battled the living legend Bernard Hopkins twice. Bernard Hopkins once said that no one hit him harder than Antwun Echols. His last fight was against veteran Sam Hill. Quillin defeated Sam Hill by TKO 10 in Manchester, New Hampshire on 9/17/08.
Some potential fan-favorite match ups in the near future could be against James McGirt Jr., Joe Greene, Ronald Hearns, Daniel Jacobs, Giovanni Lorenzo and Andy Lee.
One of his trademarks that makes him popular to fight fans, besides throwing sharp left hooks and hard right hands, is his post-fight treats. Quillin carries chocolate candy with him to the ring and showers the crowd with it after the conclusion of his fights.
Peter Quillin trains at the Trinity Boxing Club in Lower Manhattan. On Saturday June 27th, I had the opportunity to speak with him during a break from his rigorous training.
Get
cheap boxing gloves
by Everlast and Ringside.
Question: What was it like growing up in Grand Rapids, Michigan?
Answer: "I fought in the streets all the time. Something had to change, so I moved to New York."
Question: How did that whole process happen?
Answer: "My manager John Seip said to come to New York City. Then, I met Colin Morgan at the Crunch Gym in 2004. We clicked and he became my trainer. I'm going in the direction I'm going because of him. I was supposed to work with some people who work with Floyd Mayweather Jr. out in Las Vegas, but decided to make New York City my new home. I went to the Trinity Boxing Club. Martin Snow, who is owner of the gym thought that I would be good at training people. While training in the gym, I teach people here how to box."
Question: How valuable was the experience you took away after fighting Antwun Echols?
Answer: "I learned as much in that fight as my previous 17 combined."
Question: How has your sparring helped you to get where you have gotten so far?
Answer: "I've sparred with Guillermo Jones, Sechew Powell, Travis Simms, Curtis Stevens and Danny Jacobs. Most of my sparring took place in Brooklyn. Each sparring partner brings something different to the table."
Question: What did you think of Danny Jacobs' win last night?
Answer: "He looked good."
Question: What was your sparring session with Danny Jacobs like?
Answer: "People think there are winners in sparring. I sparred with him before his pro debut about a 1 year ago. We both held our own."
Question: How do you feel about how your career has gone thus far?
Answer: "I'm just building my career one brick at a time. It won't be a house until I am a world champion."
Question: What is your biggest asset, either offensively or defensively?
Answer: "My brute power."
Question: What's your favorite place to fight?
Answer: "Madison Square Garden."
Question: Who is the best fighter out there?
Answer: "Arthur Abraham."
Question: Really? What about Kelly Pavlik?
Answer: "I hope I have the opportunity to fight both of them someday."
Question: What do you think of the middleweights out there?
Answer: "They are all going to have to fight me eventually."
Question: Are other fighters avoiding you now?
Answer: "Maybe, I don't know."
Question: Who would you like to fight right now?
Answer: "Paul Williams - I envision I can take him with no problem. It would be a great fight for him once he knows who I am."
Question: When is your next fight?
Answer: "It's scheduled for August 19th in New York."
Question: What's your approach to training?
Answer: "If you do something go all out. I'm in the gym all the time....staying ready."
Question: What are you weighing now?
Answer: "I'm walking around at my fight weight." (Peter than showed me a picture taking last Saturday.) He looked in phenomenal shape and has extremely ripped abs.
Question: What are your hobbies?
Answer: "I enjoy playing video games and I have exotic pets."
Question: What type of exotic pets?
Answer: "I have 4 snakes, 1 cat, a tarantula, 2 scorpions that have 11-12 babies each, a pacman frog, and a parrot named Frankie Quillin.
Question: Why did you name him Frankie?
Answer: "It's my good friend Christian's middle name."
Question: Lastly, where did you get the idea to throw chocolate candy into the audience after your fights?
Answer: "A friend that was at Trinity told me as a joke to do it."
I would like to thank Peter "Kid Chocolate" Quillin for taking the time to do this interview along with the Trinity Boxing Club located in Lower Manhattan.
Sources: (The Boxing Register - International Boxing Hall of Fame Official Record Book 4th Edition Roberts, James B. and Skutt, Alexander G.
pp 154-155)