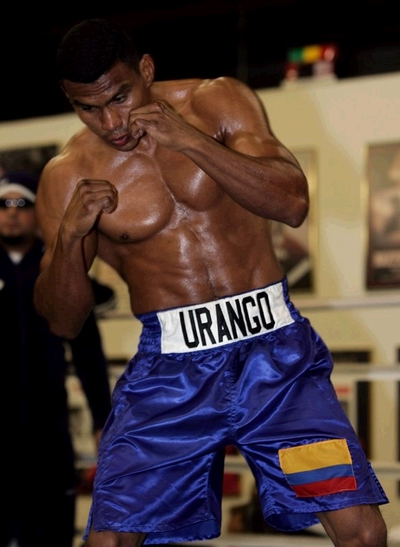 Juan Urango TKO's Randall Bailey in 11 Rounds
Urango Pictured Top, Bailey Pictured Bottom
Randall Bailey (39-7, 35 KO's) has been making a comeback since suffering a 12 round split decision defeat to Herman Ngoudjo in 2007. Juan Urango suffered a defeat in his last outing against Andre Berto was looking to bounce back with a victory. This was a crossroads fight for both men and it contained a lot of action from the start. There were two main questions leading into the fight: Could Bailey hurt Urango with his sharp right hand? Would Urango sustain an effective pressure attack and get to Bailey?
By the 4th round, Urango was really starting to pressure Bailey and landed some hard body shots. In the 5th round, Urango landed a right uppercut and followed it with a straight left. Bailey was hitting Urango with his straight right, but Urango took the punches well.
The drama started to begin in round 6. Great
karate sparring equipment
at low prices. Bailey flattened Urango with a straight right hand in the first minute of the round. Urango suffered a cut as a result of that punch. Urango rose to his feet and they started exchanging again. Urango threw and connected with a left and Bailey was momentarily off-balance. While off-balanced, Bailey's glove touched the canvas, which should have resulted in a knockdown being scored for Urango. It happened in a flash and the referee missed it.
In the 7th round, Urango landed a right hook and kept the pressure on Bailey. Bailey continued to fire the right hand. Urango floored Bailey in round 9 with a right hook-straight left combination. Bailey just got to his feet in time to beat the count, but was floored again by Urango. This time Urango dropped Bailey with a right uppercut-straight left combination. Bailey would miraculously make it through the round.
As the fight entered round 10, Urango was landing more cleaner punches than Bailey. Urango was successful in knocking Bailey down for a 3rd time when he landed a solid right hook to Bailey's body. Bailey started to suffer a lot of swelling under his left eye. Urango hit Bailey with a right hook as the bell rang to close the round.
Round 11 would be the end for Bailey. With swelling under his cut right eye, Urango nailed Bailey with a vicious right hook to the body. Urango continued to apply pressure and landed some more clean shots. Bailey's corner had seen enough and stopped the bout.
Juan Urango bounced back nicely after losing to Andre Berto. Berto's speed and agility kept Urango off-balanced that night, but Bailey does not move like Berto and stood in front of Urango all night. Urango forced Bailey to fight backing up, which he could not do. Bailey needed to be set to unleash his powerful right hand. With the pressure Urango put on him, Bailey was not able to sustain an efficient offensive attack. As a result, Urango was able to hit Bailey with plenty of clean punches and eventually stopped him.