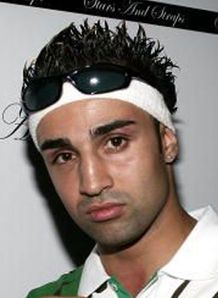 Paulie Malignaggi was born to Sicilian immigrant parents in Brooklyn's Bensonhurst neighborhood. He is an outstanding, resilient fighter, who had an exceptional career as an amateur and won a national title. Before he heads out to Chicago, Paulie took some time out from training to discuss his upcoming rematch with Juan "Baby Bull" Diaz.
Q:
You are a very slick boxer with exceptional hand speed. Did you ever try to emulate anyone's style?
A:

Thanks for the questions.

Honestly, I just go out

there and be myself, and put on the best performance Malignaggi can put on for the crowd.
Q:
I had the privilege to sit ringside for your fight on June 10th, 2006 against Miguel Cotto. It was the first fight card I attended at Madison Square Garden. You fought a very courageous fight, but lost by a 12 round unanimous decision. What did you learn from that experience that helped you become a better fighter today?
A:
I tested my ability that night, and of course, I wanted to win that fight, but it showed a lot about me. It showed that I can hang with the best 140 pounders in the world, and that I am an elite fighter. Cotto was a tough fighter, and we put on a great show that night.
I showed you that I can be a slick boxer and still put on a great performance.
Q:
You returned in 2007, and defeated Edner Cherry by a 10 round unanimous decision. Then, you captured the IBF junior welterweight title when you outclassed Lovemore N'dou, earning a 12 round unanimous decision victory. I thought this was the best performance of your career. N'dou brought out your best boxing skills and you dominated the fight. You won "Comeback of the Year" award from Ring Magazine. Can you describe how you felt at this point in your career?
A:
I just won a world title. Everyone doubted Paulie Malignaggi, but once again, I proved the critics wrong. It was one of the best days of my life.

It's been what I wanted since I got

into boxing. I always wanted to be a world champ and it came true.

If you believe in yourself, great

things can happen.


Q:
Did the cheering and singing of all the fans from England, who came to support Ricky Hatton, affect your performance that night? If an opportunity presented itself, would you like to face Ricky Hatton again? If so, what adjustments would you make?
A:
Of course, that night I fought Ricky Hatton was a bad night for Paulie Malignaggi. Wasn't the best performance I put on, wasn't my night. Everything was going wrong up to that night. I had bad training etc. But the fans were great, and that just gets you more pumped.
Q:
On August 22nd, 2009, many fight fans including myself, felt that you should have been awarded a 12 round unanimous decision victory over Juan Diaz. You were very vocal about the loss after the bout. Gale Van Hoy scored the bout 118-110 and Judge David Sutherland scored the bout 116-112 for Diaz. In my eyes, this was just not possible. At the least, I had you winning 8 rounds to 4. I thought Diaz landed his share of clean punches, but you appeared to be outworking him for the majority of the minutes, in almost every round. You landed clean punches inside, and you were also doing a good job of utilizing your jab from the outside, to set up your punches as Diaz charged toward you. When HBO's Max Kellerman asked you about a possible rematch, you said, "You know, I'm not getting a rematch." Now that you are fighting Diaz again December 12th on HBO, are you going to change your strategy at all?
A:
Everyone is going to have to tune in on
DECEMBER 12
TH
to see what's in store for Juan Diaz. If you like Magic, then come watch the greatest disappearing trick of all time!
Q:
I never saw Diaz ever make any adjustments in a fight. He knows how to fight one way – going straight forward with pressure. Do you expect him to do anything different in the rematch?
A:

He might switch it up a little, but we're ready for anything Juan Diaz presents.
Q:
How did the UIC Pavilion in Chicago, Illinois become the site for the rematch? What other cities were being explored?
A:
Of course, we wanted New York or New Jersey. Vegas was an option as well, but that wasn't neutral at all, and they definitely wouldn't go to the east coast.
So, people came up with Chicago and it's a great place. A lot of fight fans love this sport, so I am looking forward to being in Chicago.
Q:
Did you ever fight in Chicago? How do you think the fans will react to you? Will many of your friends and family be making the trip from Brooklyn?
A:

Well, I fought there once when I was younger, but not on a big stage like this. Yeah, we're getting tons of support and feedback from fans all over the world, who are flying in for this fight. It's crazy! But Malignaggi fans are going to be there supporting, which is great! Can't get any better then this
!!!
Q:
Where did you decide to train for the rematch with Diaz? How are things going in training camp?
A:

In New York,

its home. Didn't want to go no where else! Things went perfect.
Q:
If you are successful over Diaz, who would you like to face next? What is the next goal you are aiming to accomplish in boxing?
A:
Hatton rematch would be great. Amir Khan just got a big victory, so there's
options at 140, but we'll see who wants it after December 12
th
.
Q:
At 29 years old, you have some years left in boxing to continue to showcase your skills. Have you thought about what you would like to do after boxing? Did you ever think of commentary? Or training fighters in the gym back home in New York?
A:
We'll see. Hopefully, Hollywood is ready for a Brooklynite!


Q:
You have been outside the ring doing print clothing ads that have been featured in such magazines as Esquire and Playboy. What made you get into fashion? Are you currently working on anymore ads?
A:

We got some things in the works. I'm from the fashion capital of the world!

LOL
Q:
Finally, what is the world going to see from the "Magic Man" on December 12th? Do you have any surprises for Diaz?
A:
Paulie Malignaggi always has tricks up his sleeves!
So, when December 12
th
comes, Diaz will get a personal magic trick of his own!