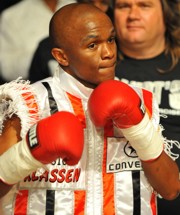 (Pictured Top - Malcolm Klassen), (Pictured Bottom - Robert Guerrero)
Malcolm Klassen's first fight in the United States will not be a pleasant memory, but he did fight a very competitive fight against Robert "The Ghost" Guerrero. Guerrero won a 12 round unanimous decision by scores of 117 - 111, 116 - 113 and 116 - 112.
In the 1st round, the southpaw Guerrero fired combinations off a right jab that he would use effectively all fight. Klassen came forward and forced Guerrero to fight at a furious pace, but Guerrero continuously got his punches off first. Every time Klassen pressured Guerrero, he would be met with a right jab. However, Klassen did a good job of landing some hard body shots in the middle rounds. In the 6th round, Guerrero ripped a short left uppercut that knocked Klassen's mouthpiece out. Protect yourself with
sparring equipment
.
Guerrero was too fluid with his punch output for Klassen to be inside long enough to damage his body. HBO punch stats had Guerrero throwing exactly 1,200 punches in the bout. In the 10th round, Guerrero's cut above his left eye was bleeding a lot, but he fought through it. Robert Guerrero improves his record to (25-1-1, 17 KO's ). Malcolm Klassen drops to (24-5-2, 15 KO's).